Data Science in 21st Century Education: Problems and Solutions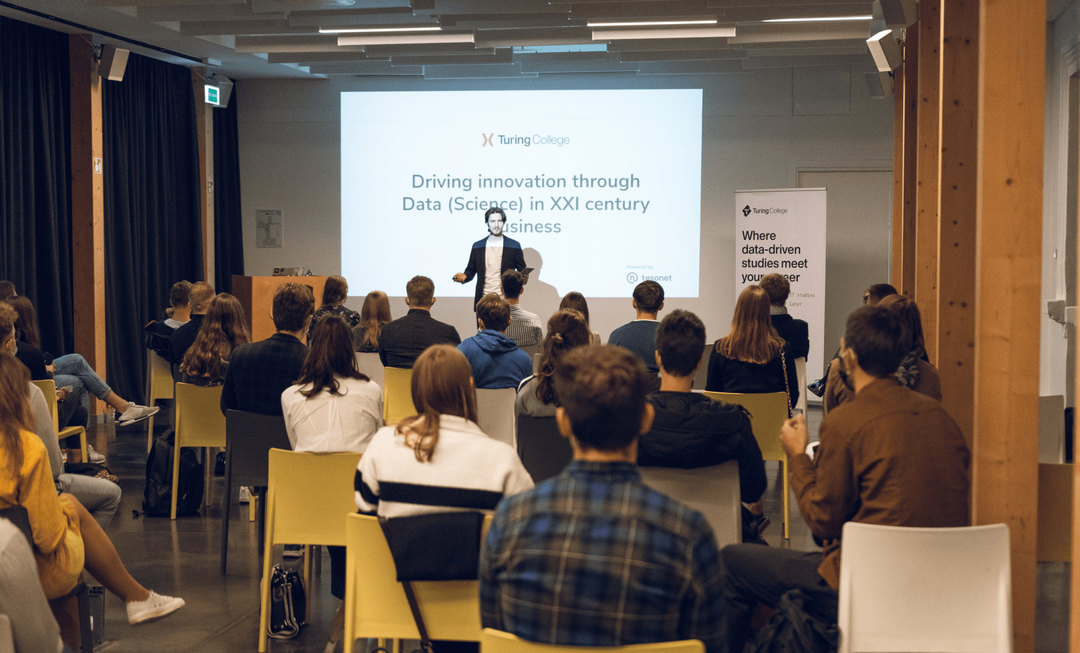 Data scientists play a huge role in today's businesses. They help companies grow. Their ability to provide ground for data-driven decisions makes data scientists one of the most in-demand professions in the eyes of the majority of employers, especially in the tech field.
Data science is a relatively new career path that requires knowledge of statistics, business, and programming. The problem is, the current education system oftentimes fails to provide such a combination of skills. This creates a huge gap between market needs and the education system's ability to teach these skills. Higher education has been ripe for disruption for a long time, and Google's recent announcement is proof of just that.
Universities don't equip students properly with the real-world skills they'll need to survive and thrive in the workplace. This applies not only to the education system in Lithuania but also to the global arena: to address the current issues facing Data Science education (and IT as a whole) the software-driven remote-friendly coding school - Turing College organized an event called "Driving innovation through Data (Science) in XXI century business".
The event took place on September 17 at Vilnius Tech Park and attracted around 2000 curious online viewers, as well as a full conference room (well as full as current safety recommendations allow) in Vilnius Tech Park.
Our friends from Startuper's Smoothies greeted attendees with tasty smoothies. With the need for a vitamin boost out of the way, the event continued with three speakers presenting different topics on Data Science.‍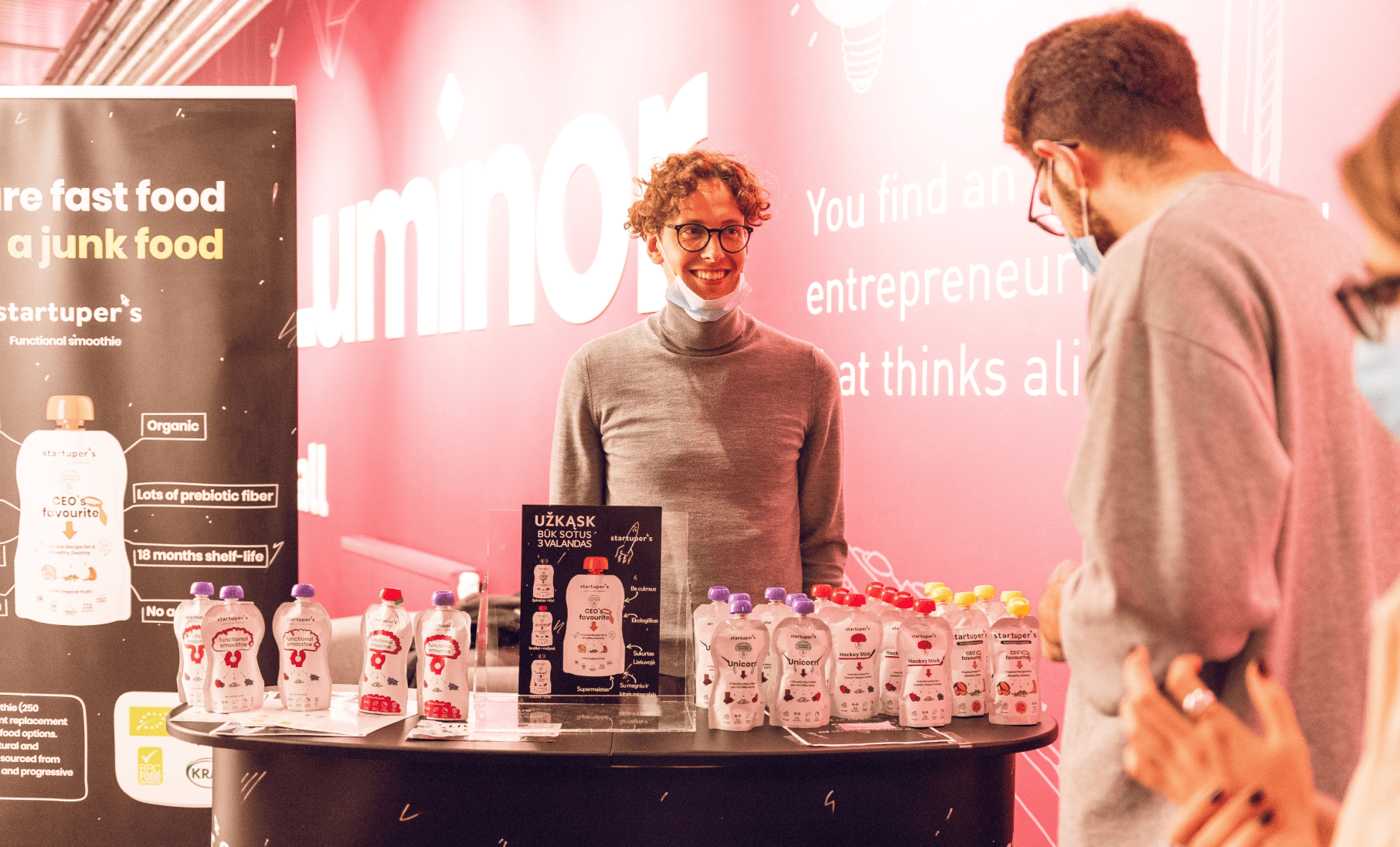 Future-proof education: Meeting the market's needs
The first one on stage was Turing College CEO Lukas Kaminskis. One of Lithuania's key EdTech players, Lukas has been into tech education ever since his teens. Did you know he created his first coding boot camp at 16 years old?
No less fascinating is the fact that, at 22, he was asked to teach Software Engineering at ISM international university. Today, Lukas is working closely with the Harvard CS50 team on several top-tier EdTech projects, Turing College being the most ambitious.
During his talk, Lukas argued that major changes in IT education should be based on three equally important pillars:
1) a new learning methodology;
2) a new teaching methodology;
3) a way to bridge the gap between education and industry.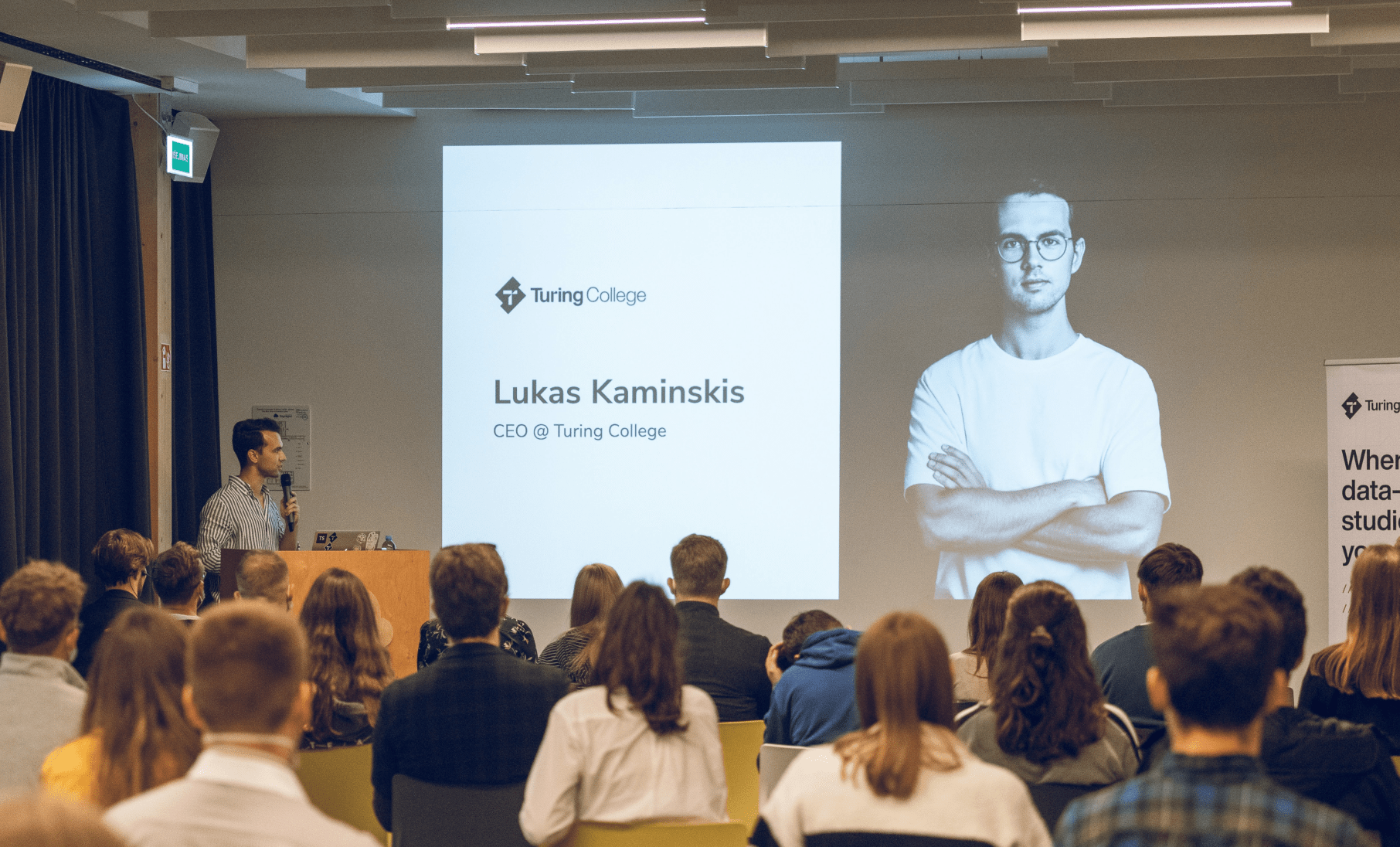 Lukas then went on to explain why Turing College'slearning software and methodology has the potential to transform tech education to meet market needs. What else did he cover?
The remote-friendly college uses innovative self-paced learning software and methodologies and has just presented its very first Data Science program.
The college offers innovative and fully-automated learning software built on the concept of peer-to-peer learning.
The education process is strengthened by cooperation with the best global education institutions and tech companies.
Data Scientists: Local and global profiles
Second on stage was Laura Simutienė from our partners at Tesonet. Her topic was "Data Science: profiles and daily life". Laura knows the field well as she is a data scientist herself. She is currently responsible for developing and improving one of Tesonet's products. With an MSc in Mathematics, she has been focusing on statistical analysis methods and machine learning models for the past eight years.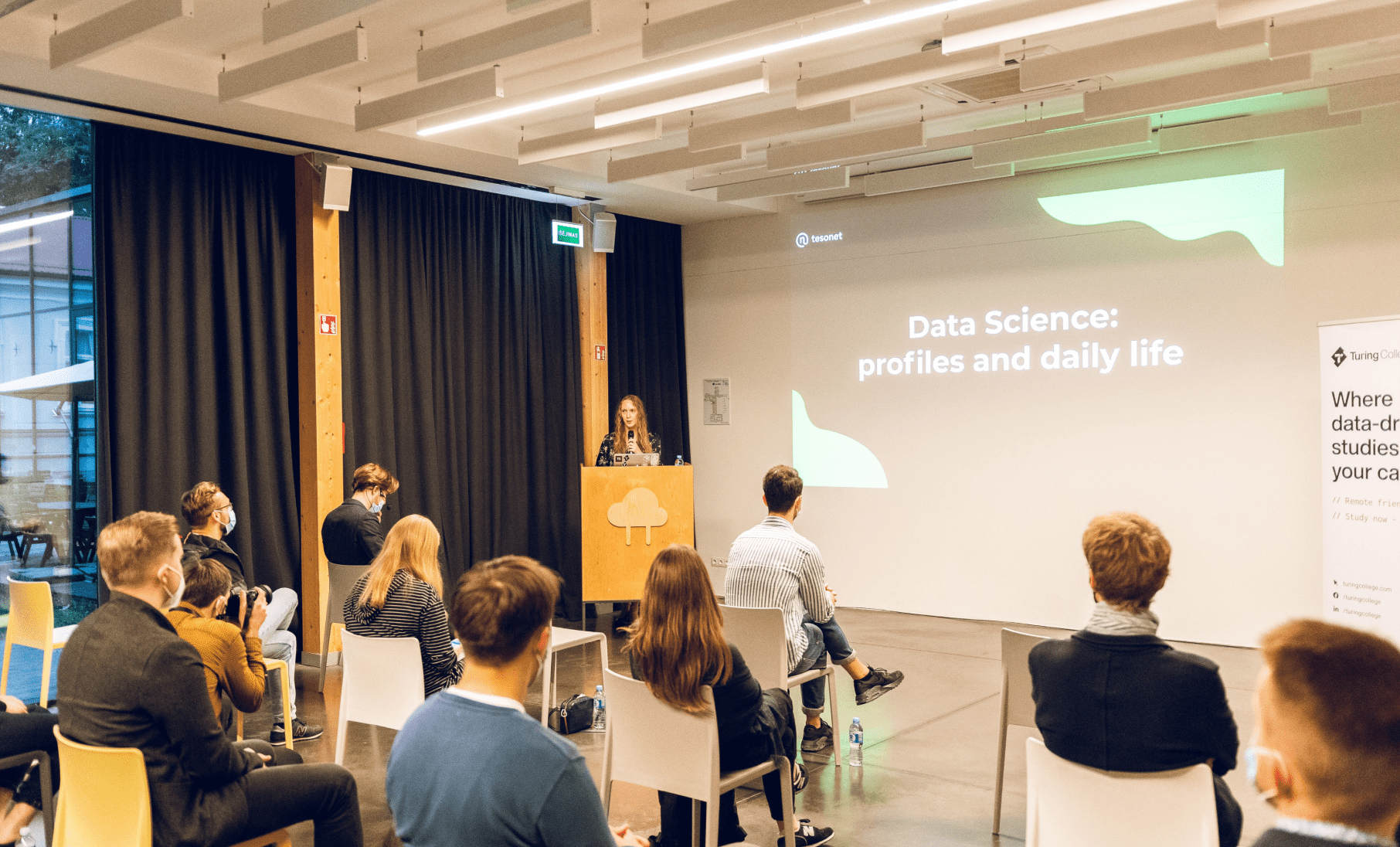 Laura talked about data specialists in a practical way, covering both day-to-day work processes and industry facts. Talking about the industry, she shared many valuable insights. One of them being:
There are 12,648 Data Science job postings in 2019-2020 on LinkedIn and Glassdoor across the US and Europe.
Laura also highlighted the differences between local and world-class Data Scientists. According to her, Data Specialists on the global market are business result-oriented and comfortable with iterative processes. Successful experts also have analytical/BI work experience, and are keen on collecting and sharing business insights with their team/company.
"On the global market, Data Specialists are highly business result-oriented and comfortable with iterative processes."
Supply-demand gap in Data Science
The last presentation covered the importance of Data Scientists in today's world. Monika Simaškaitė, CEO of Turing School, is a Tech education enthusiast. She's got experience working with projects like Women Go Tech, Mommypreneurs, DigitalExplorers, among others. Monika collaborates with business and education institutions to help train world-class ICT professionals in Lithuania.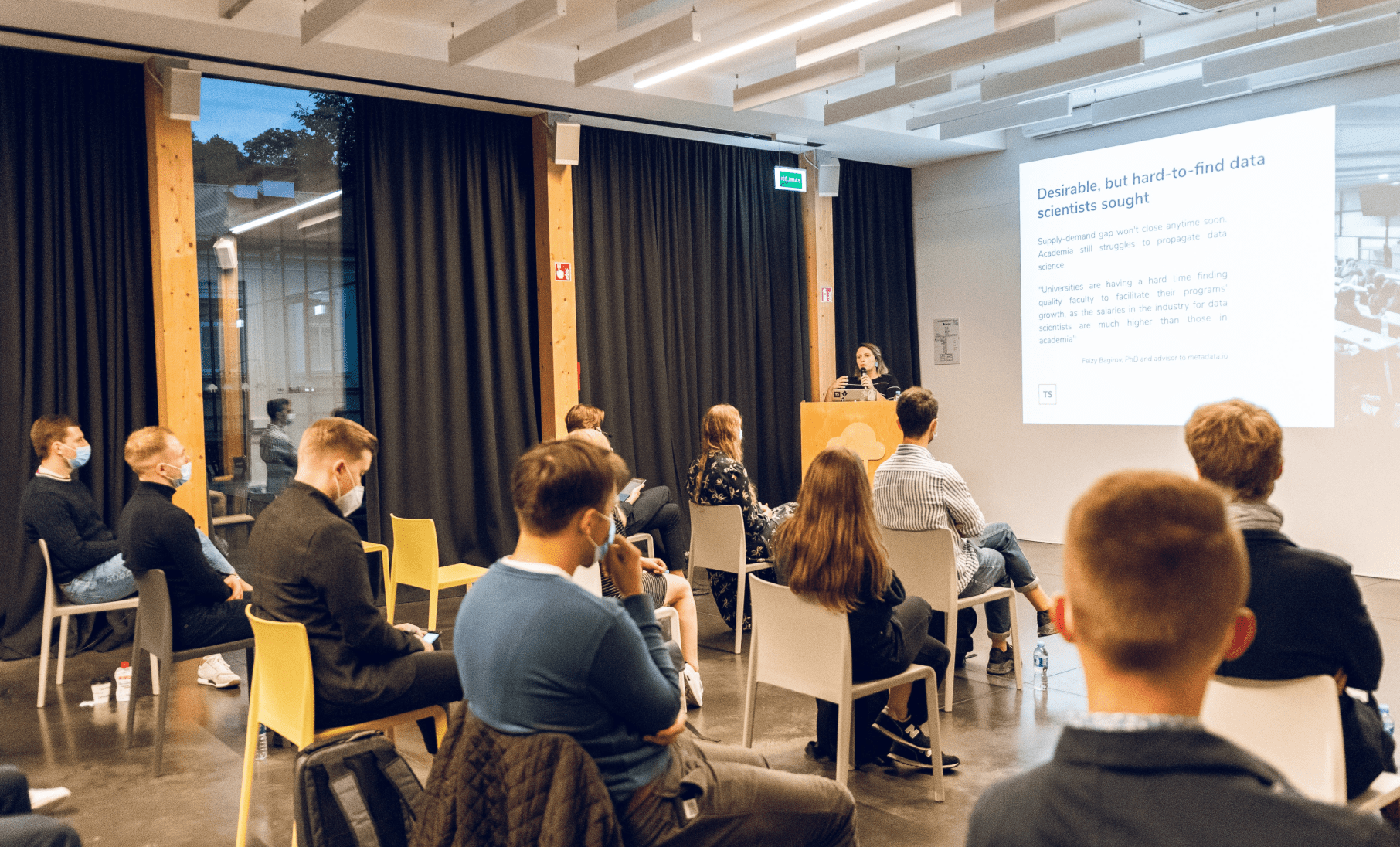 In her presentation "The rise of Data Scientists in the XXI century,"Monika emphasized a major issue:
"Data Scientists have never been more in demand, but it's really hard to find them. And the supply-demand gap is not going away any time soon. The problem is, the academic community struggles to prepare Data Scientists, as it's simply not capable of that."
"Universities are having a hard time finding quality faculty to facilitate the growth of their programs, as the salaries in the industry for Data Scientists are much higher than those in academia," Monika quoted Feizy Bagirov, Ph.D. and advisor to metadata.io.
The CEO of Turing School also noted that in the coming years, companies will be looking for people with more specialized skill sets. That includes Data Science leaders, data translators, who provide a link between data and business, and domain-specialist data scientists.‍
The fully-automated Data Science program
The speakers grabbed the public's attention and raised further curiosity. The attendees were actively asking questions about Data Science, the future of tech education, and the perspectives of its collaboration with business. After the official part was over, the evening moved to the BarKodas bar next-door.
Are you interested in expanding your career possibilities? Learn more about our Data Science curriculum and register for a full-time or part-time program HERE.
Missed the event? Watch the recap: