Oxylabs partners with Turing College to prepare data engineers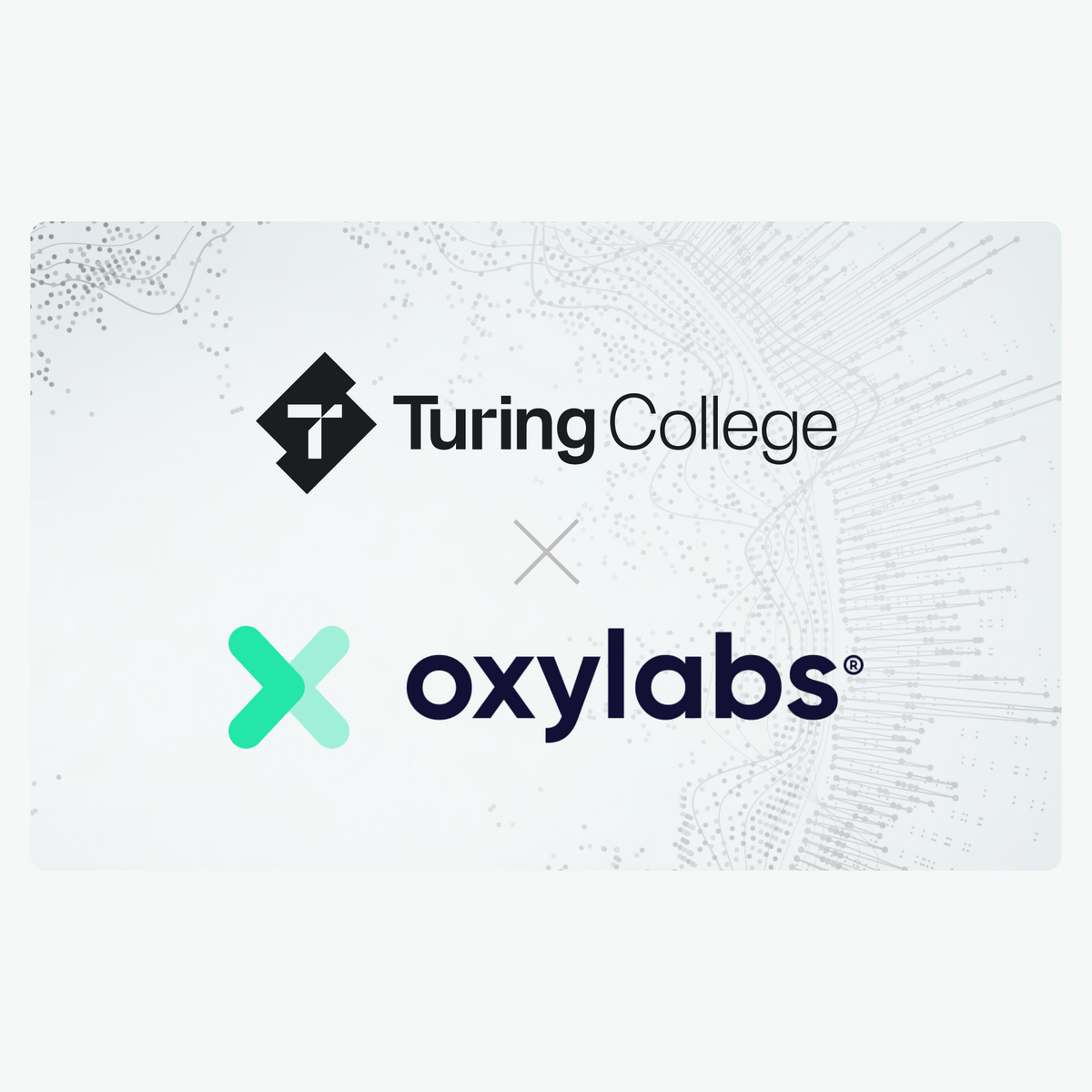 A new hiring partner - Oxylabs

Oxylabs is one of the world's leading proxy and web-scraping solution service providers with over 1000 clients globally, many of which are Fortune 500 companies. Using Oxylabs' AI & ML-powered web data gathering infrastructure, companies can quickly access publicly available data at a large scale.  
At Oxylabs, creativity, an eagerness to explore, and a drive for innovation, go hand-in-hand. We make data-driven decisions, and find ways to overcome difficulties with whatever resources are at hand. So, it's natural that we experiment on the global data stage. And through this we grow every day, all the while exploring the industry's as yet untapped potential.
Why data engineering?
Data engineers build systems that collect, store, and analyze data at scale. They find ways to extract raw data and transform it into usable information for data scientists and business analysts to interpret.
"The amount of data globally is increasing 20% YoY - this is why data engineer roles are hugely in demand." - Dovydas Čeilutka Decision Data Scientist @ Vinted, President @ AI Association Lithuania
There are just a few comprehensive data engineering courses available online. This is why, in partnership with companies like Oxylabs, we've created a highly specialized course on data engineering. Via a ~500 hours length course that takes 5-8 months to complete, people will be equipped to start working as data engineers, analytics engineers, and data warehouse engineers.
Oxylab's growth heavily depends on data
Data-driven decision-making is steadily becoming the standard among various industries.  One of the most complicated and novel challenges Oxylabs faces and deals with is the integration of alternative data into existing solutions and governance practices. Few companies have delved deeper than Oxylabs into the way these novel sources can be usefully and efficiently used for commercial and scientific purposes. This pushes them to create something that would allow others to untap the hidden secrets of alternative data.
Data volume, by itself, is a unique challenge. An enormous amount of data flows through Oxylabs, likely more than through any other software company in Lithuania. Optimizing and managing petabytesof data, much of which is relatively novel in type, is a challenge for those who want to be at the forefront of innovation. Cutting-edge solutions that Oxylabs build in-house provide up-to-date and reliable data that helps companies stay competitive, visible and, often, becomes the foundation of their success.
Oxylabs also stands as an innovator in the field of data acquisition. They are constantly unlocking new and exciting sources of data that present the opportunity to reveal previously impossible insights. With their help, businesses are able to advance management and commercial practices to further optimize their processes, sometimes even discovering unique applications for data analysis itself.
"As we believe that data is the future and have ambitions to create even more inventions in the data world, we aim to strengthen our data engineering force while contributing to education as well. We see our collaboration with Turing College as a great opportunity for that." - Karolina Ustilo-Kačinauskė
Information about Turing College's data engineering course

Our Data Engineering course starts on January 23rd, and everyone interested can apply here now. As the data engineering course is more advanced, candidates should have some prior software engineering or coding experience to be admitted.
The 1st data engineering batch will kick off with only 15 students, so we encourage you to hurry up and apply now!