Tech companies join hands to tackle low supply of in-demand specialists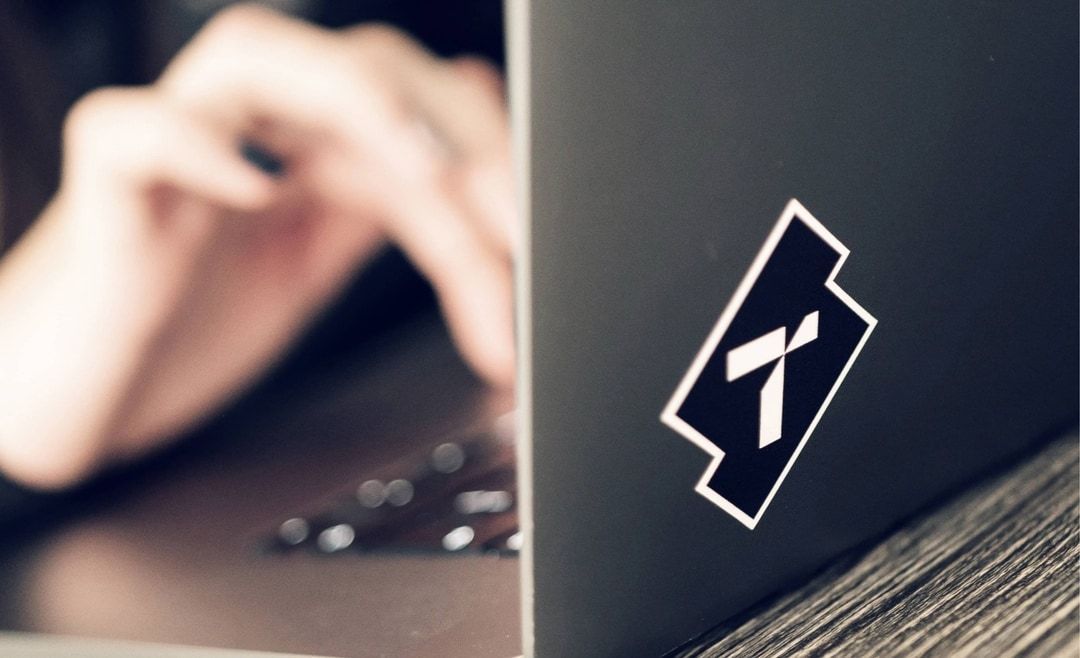 Nord Security, Biomapas, Satalia, NFQ and other tech leaders are coming together to help train Data Scientists that will be company-ready in just 6 months. For Turing College, the Data Science career school behind this new method, an expanding circle of suitable industry partners is of high strategic importance for growing the next generation of highly sought-after Data Scientists.
Based on the LinkedIn data for this year, Data Science is among the most marketable professions in 2021. The report states that "organisations big and small need experts who can make sense of the data and learn from it. The pandemic may have made some businesses lean more heavily on Data Scientists […] Hiring for these roles grew nearly 46% since 2019".
Hiring enough Data Scientists can take quite some time. Due to high market demand and the relative shortage of suitable candidates, Data Science jobs remain open 5 days longer compared to all other jobs. At the same time, the US Bureau of Labor Statistics predicts that the number of Data Science jobs will increase by about 28% through 2026, which means an additional 11.5 million new jobs created in the field.
According to Turing College, the current situation on the market necessitates giving more attention to the preparation of future Data Scientists, while cooperation with the industry is likely to bring about a qualitative breakthrough in IT education.
"Our partners co-create our program and enable us to focus on the knowledge and skills demanded by the market. So, in addition to providing people with technical know-how required in Data Science, engineering basics and machine learning, we're teaching them time management, how to work in IT teams, corporate communication and so on. Together, we're capable of producing market-ready specialists," stresses Lukas Kaminskis, CEO of Turing College.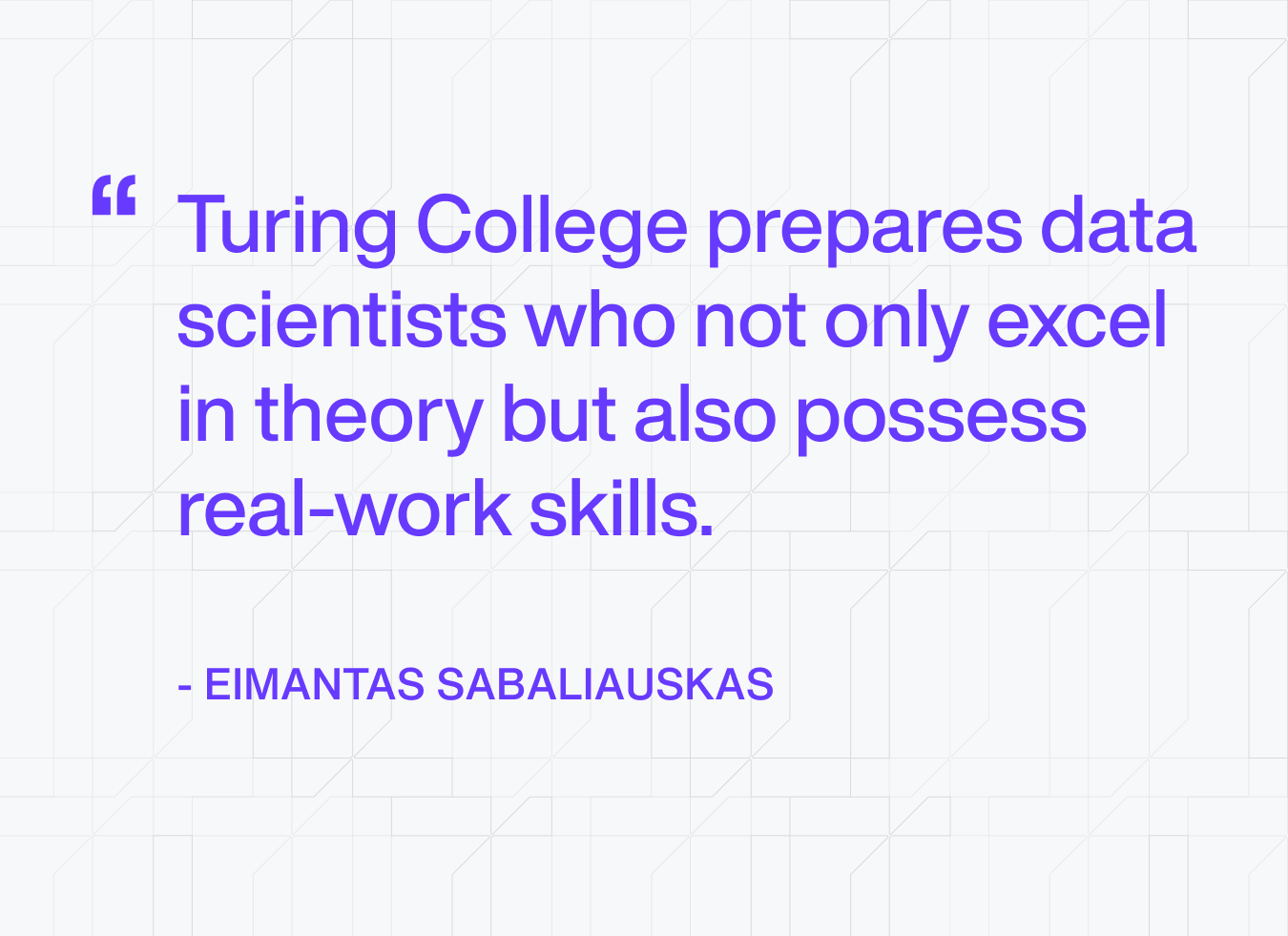 Eimantas Sabaliauskas, a co-founder of Nord Security, a company engaged in developing world-class cyber-security products, and one of Turing College's partners, emphasises the following:
"We build practical tools used by millions of people who care about their security and privacy online. It means that we need people with practical knowledge in our development teams. Turing College's approach to education truly benefits and matches our company needs. Turing College prepares data scientists who not only excel in theory but also possess real-work skills."
Laimonas Sutkus, the Chief Technology Officer (CTO) of Biomapas, a clinical, regulatory and pharmacovigilance solution provider to the global life science industry, also highlights the work-readiness of the program's participants: "I am glad to finally see an educational institution in Lithuania that focuses on practical teaching and problem-solving. Our partnership with Turing College gives us a significant advantage in finding the best tech talents."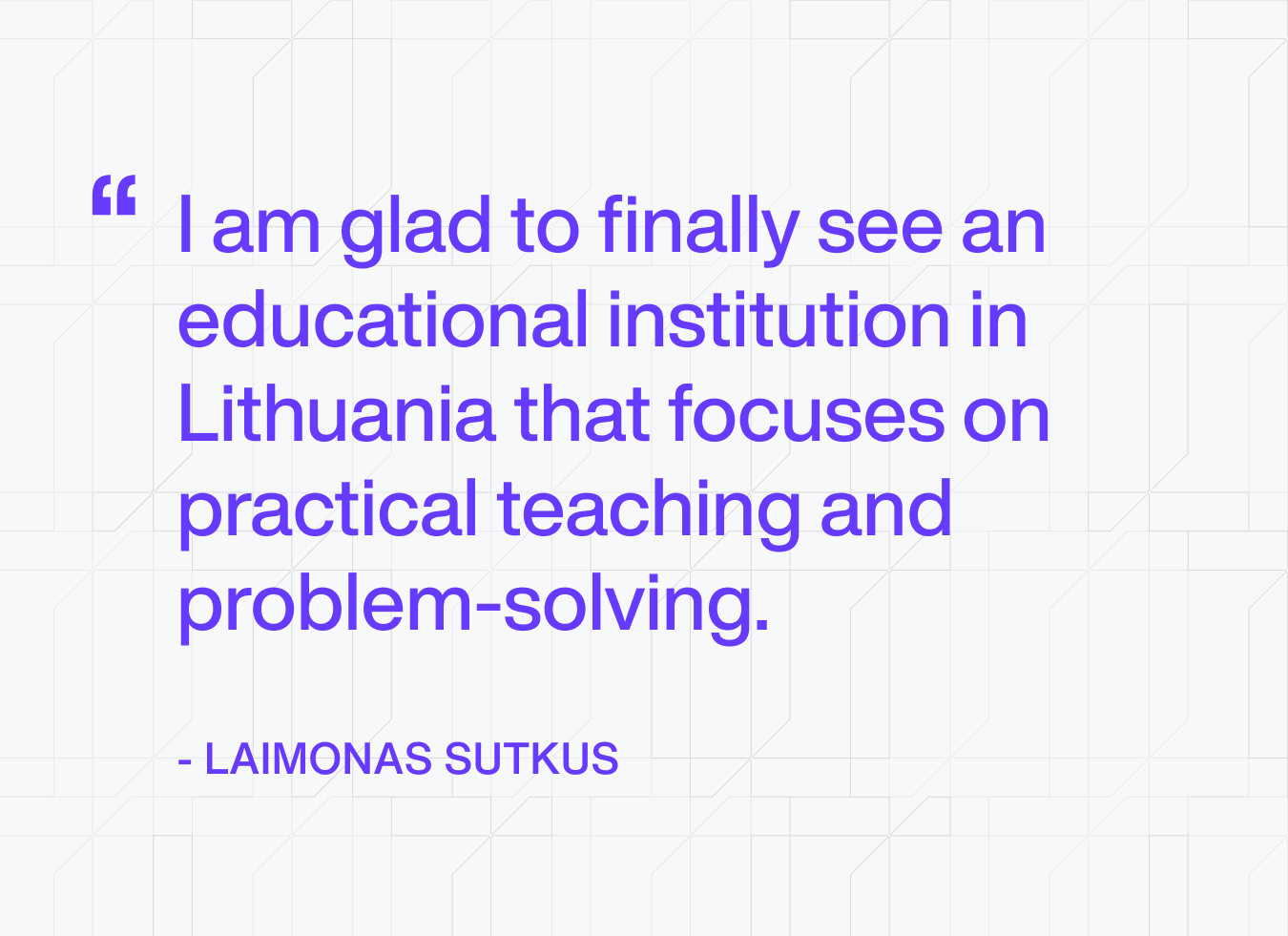 To date, Turing College has established partnerships with the world-leading cybersecurity service provider Nord Security, which came out of the next-gen IT product accelerator Tesonet, a service provider to the global life sciences and pharmaceuticals industry Biomapas, the UK artificial intelligence and Data Science company Satalia, the e-commerce marketing automation platform Omnisend, the digital innovation company NFQ, the aviation IT company OAG, the big data analytics company Exacaster, and Neurotechnology – a world leader in the field of biometric technology.
These partners are not only helping Turing College in developing its Data Science course, they also have agreed to employ the most promising graduates, depending on actual need. Currently, almost 50 learners are attending the Data Science course conducted by Turing College. The next cohort will start on 19 April with the same number of participants.