A day in the life of a junior data scientist at Barbora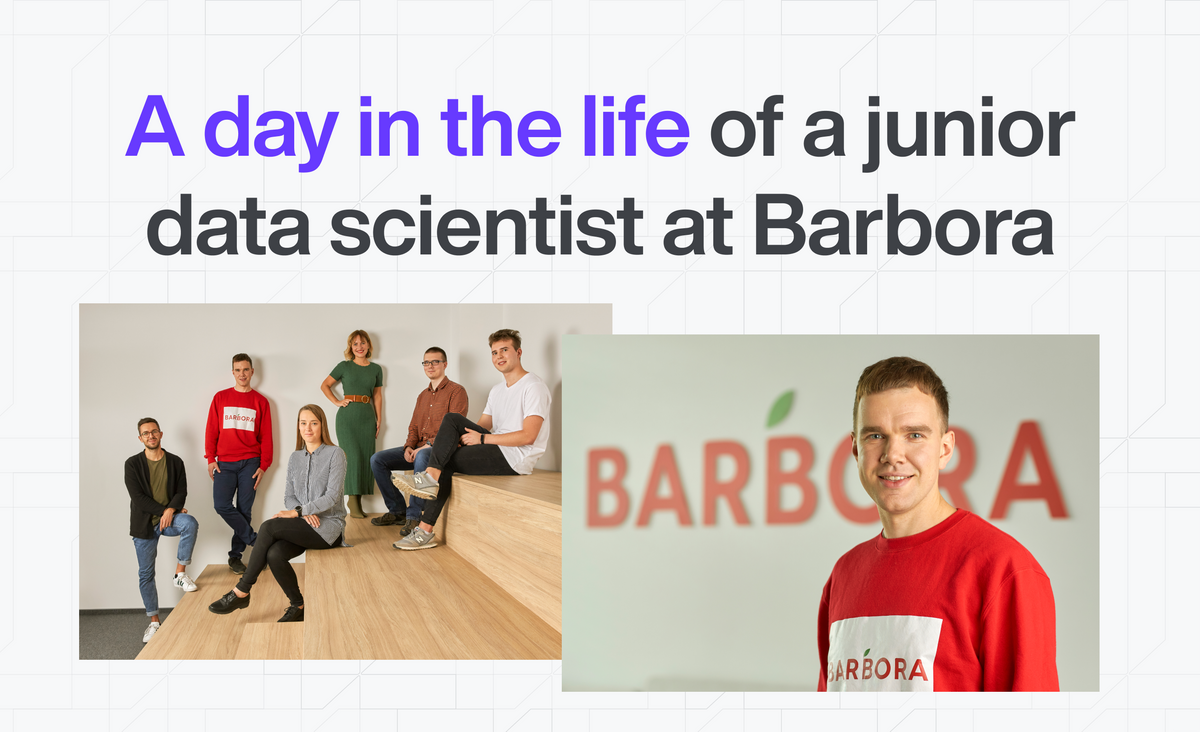 Data science is a very varied and diverse field. This makes it an exciting and dynamic area to be working in, with growth opportunities around every corner.
But it can also make it hard to understand what exactly a job as a junior data scientist might look like. And this is a big problem if you're considering a career shift to data science. After all, wouldn't you like a little look behind the curtain before you make the decision?
Well, we're here to help with a new series of "day in the life" articles. We'll be speaking to some of our hiring partners to get a picture of what a typical day in their company looks like as a junior data scientist. Our hiring partners are companies that partner with us in developing our curriculum and hiring our learners.  
First up is Barbora, the largest e-shop for groceries and food in the Baltic states (it has recently entered the Polish market as well). We caught up with Andrius Didžiulis, Head of Data Science at Barbora to find out about 2 data science positions they are recruiting for - Junior Data Analyst and Junior Data Engineer. Andrius told us a bit more about the everyday tasks of specialists in these roles, the skills required, and some of the unique advantages Barbora has to offer as an employer.
A typical day as a Junior Data Analyst at Barbora
Imagine you've just started your new role as a Junior Data Analyst. It's Monday morning, you're at your desk with your morning coffee. What does the day have in store for you?
"In the morning, our Junior Data Analyst reviews the main daily reports, and takes part in a team standup," explains Andrius. "After that, they work on analytical tasks that usually occupy the majority of the day. Often, the analyst needs to discuss the work with stakeholders, and perhaps they will have to deliver a presentation about a particular analytical topic."
In summary, your day will be spent putting your data analysis and communication skills to work. "Overall, the main tasks of a Junior Data Analyst are analyzing daily reports to find insights, taking care of various ad hoc analytical tasks, and then communicating with stakeholders," says Andrius.
Key skills a data analyst at Barbora needs
So, according to Andrius, what are the most important skills a data analyst at Barbora needs? "You need to have a straight-to-the-point approach, good communication skills and an analytical mind," Andrius points out.
"Our Junior Data Analysts answer analytical questions related to many business areas, as we want to assess each specialist's performance and preferences. These questions could range from a small SQL query to modifying prediction algorithms and interpreting its results."
To handle these tasks, they need developed skills in SQL, Tableau, and Jupyter Notebooks, with some Python too.
As the specialist progresses,  their work shifts from general tasks to more specialised ones. "The first year in this position is very dynamic and rather tough," explains Andrius. "But after that, when the analyst has become comfortable in most areas, their work gets more specialised. The tasks are more consistent and are aligned with their career goals."
A typical day for a Junior Data Engineer at Barbora
While Junior Data Analysts focus on making sense of the data, a Junior Data Engineer's role at Barbora is very different.
"After getting acquainted with all the infrastructure we have (which could take up to 1 month), our Junior Data Engineers usually learn to build a copy of one of our engineering products," says the Head of Data Science at Barbora. "This could be an ETL procedure, a scraper, etc."
"Our Junior Data Engineers also spend time improving our existing data science products while fixing bugs and adding new features."
So, what does a typical work day look like for a Junior Data Engineer at Barbora?
"After taking part in a daily team standup, they work on engineering tasks that usually occupy the majority of the day," explains Andrius. "These tasks might be learning, developing products, and managing cloud infrastructure."
"Often, engineers meet their senior colleagues to discuss their work and review the work of their colleagues. They also need to communicate with stakeholders."
The skills for success a Junior Data Engineer needs
"To be successful, our Junior Data Engineers need to have a product-oriented mind, good communication skills, and the motivation to learn a lot," explains Andrius. The last point regarding learning and perseverance is particularly important, given the fact they will be spending at least one month learning Barbora's infrastructure.
From a technical perspective, Junior Data Engineers at Barbora need to be skilled in Python, cloud services (AWS) and containers (Docker).
What Barbora can offer new data scientists
Clearly, Barbora offers a range of stimulating tasks and countless opportunities to learn and grow for its new data science recruits. From understanding the company's data infrastructure and adding new features to it, through to analysing reports and modifying prediction algorithms, there is something for you no matter which area of data science you're interested in.
There are additional advantages to working at Barbora as well. "The main benefits include health insurance, a learning budget, various discounts from partner companies (like Maxima and Eurovaistine) and regular team building events," says Andrius.
And of course, there is flexibility as to where you work from. "We are okay with regular remote work," he states. "And we offer a comfortable office space for colleagues who are tired of working from home."
Landing a data science job with Barbora
If that sounds like an attractive package, the next question is how do you get a job at Barbora.
Well, Turing College is a good place to start. As a Turing College hiring partner, Barbora has actively participated in developing our curriculum. This means you'll be learning exactly the skills employers like Barbora are looking for.
Andrius also has some tips on how to shine in a job interview with Barbora. "We look for good communication skills," he says, "and for positive results from the trial task they have completed."
As for how to conduct yourself, the Head of Data Science advice is clear: "Be positive, honest and straight-to-the-point."
Is data science for you?
Hopefully, our first "day in the life" article has shed some light on what the working life of a junior data scientist is like, be they a Data Analyst or a Data Engineer.
Keep tuned to our blog for more of these articles. You might also like to check out this article on the education and experience levels you need to study data science. It's based on data from our first 3 batches of learners, so it gives you an accurate picture of the types of people who study data science and whether it's a good fit for you.
And, of course, if you've made your mind up to get into data science, why not register with Turing College?