Another Data Science success story as Mantas Pieža joins Gjensidige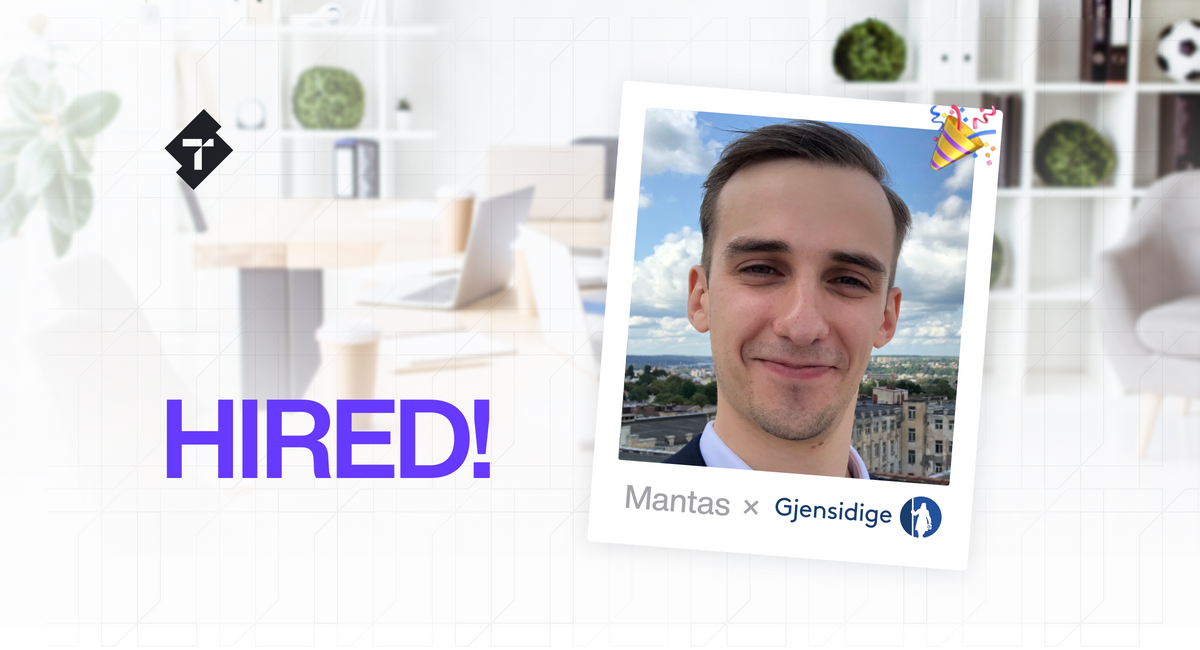 Turing College's success story of getting its learners hired has continued with the placement of Mantas Pieža at insurance company Gjensidige.

Originating in Norway, Gjensidige has over 200 years of experience in the insurance industry. It's operations now spread across Norway, Denmark, Sweden, and the Baltic states, and the company turns over €2.6 billion annually. Mantas has joined the company as a Data Analyst, his first role in data science and one that he believes will be an important step in his career.
A data science career milestone reached sooner than expected
Mantas joined Turing College in late 2020 in the data science career school's very first batch of learners. And, thanks to the course material and support he has received, things have progressed much faster than he was expecting.

"I can't imagine myself reaching this milestone so quickly without the help of Turing College," says Mantas. "And that's not just because of the course material itself. Turing College provided full support from step one of the journey right the way through to getting hired."

Rapid progress despite starting with little maths and programming experience
Mantas joined Turing College with extensive experience in the hospitality sector and excellent communication and interpersonal skills.

However, he had relatively little knowledge of maths and programming before enrolling, two key skills for a data scientist. But this didn't hold him back. The supportive, community-based learning environment, combined with his determined and positive personality, ensured he made rapid progress.

"Mantas' strong communication skills, alongside his positivity, openness, and determination to become a data scientist, have allowed him to progress at the pace of far more experienced learners, even with little programming and maths knowledge beforehand," explains Giedrius Žebrauskas, Head of Education at Turing College.

A Junior Team Lead who values responsibility and respect
Mantas' potential was quickly recognised at Turing College, and he was asked to become a Junior Team Lead (JTL). JTLs are Turing College learners who are asked to take on additional responsibilities to support peer-to-peer learning. These include leading daily stand-ups and talking with fellow learners to identify anything that is inhibiting their learning. Aside from being very useful for all the peers, they get a scholarship of 300 Eur / month.

According to Simona Bareikė, Career Consultant and HR Business Partner at Turing College, Mantas is well suited to this role. "Mantas is a positive and open-minded Junior Team Lead who values responsibility and respect," Simona explains. "He strongly believes in the value of paying attention to small details and their relation to the overall health of a process. He also enjoys open discussion and having the possibility to help a colleague."

The start of a career in data science
Mantas believes that, in his new role as a Data Analyst at Gjensidige, he will continue to move his career forward. "I was searching for a company with similar core values to me," he explains. "I am so excited because I really think Gjensidige is a place where I see myself being able to grow as a person and, of course, as a professional. It's just the first step in a long yet exciting journey."

And the team at Turing College are sure that Gjensidige have a great new addition to their team. "There's no doubt that his future teams will find him a pleasure to work with," says Giedrius Žebrauskas, Head of Education. We wish Mantas all the best in his new role, and hope the team at Gjensidige enjoys working with their amazing new colleague.

Are you surprised to hear that Mantas' data science career is progressing so fast despite him starting off with relatively little programming experience? Then perhaps you should take a look at this article on what education and experience levels you need to start studying data science?