What does it mean to study at Turing College?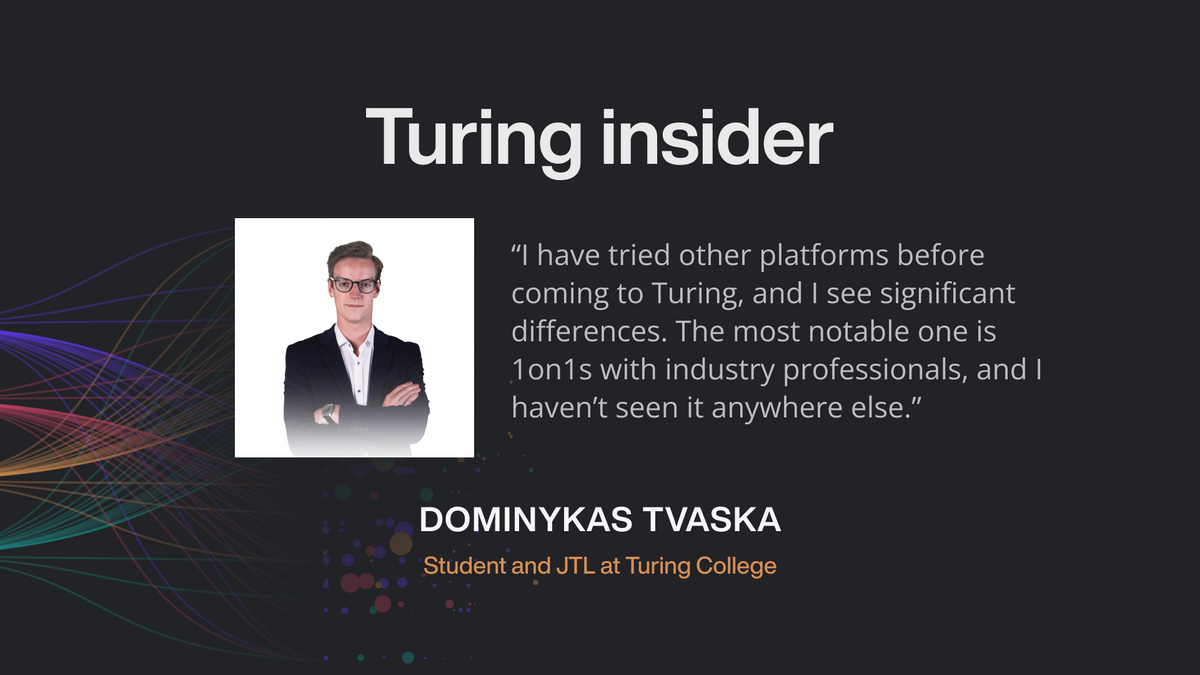 We interviewed Dominykas Tvaska, who is a student from the 1st Turing College Data Analytics course. Dominykas studied Bioengineering at Vilnius Tech, was the president of the Student Council, and was a council member of various student organizations. In a short period of time, he was promoted to the student leader position of Junior Team Lead at Turing College. With this success in mind, we asked him several questions about his experience at Turing College.
Is Turing College different from anything you have tried? How?
Great balance between theory and practical knowledge. Other platforms usually lean more heavily towards one or the other. But you can't really progress without both of them, as you would always feel that you are missing something. In my opinion, Turing College has found that sweet spot between theoretical knowledge and practical exercises. You are not overburdened with theory, but they always give you just enough so that you don't feel like you are doing the practical projects without understanding how they work.
1on1 meetings with industry professionals. I haven't seen this anywhere else, and it might be the single most significant advantage that Turing College has to offer. Industry professionals have a vast amount of knowledge and practical insights to share. It is sometimes challenging for learners to understand the small nuances that might be present at any given task. STLs at Turing College are excellent at pinpointing the mistakes and helping the learner find them without pointing them out.
Great and active community. Community is vital when you are learning. Community members can help you with tasks or psychologically support you when you need it. The Turing community is enthusiastic, supportive, and striving to learn, so it is a great environment.
What I like most is that you do not simply get a task and a set way to do it. There are limitations, of course, but you get a lot of freedom to do the project in the way that you think is best, and I believe this is the best way to learn. This way makes it impossible to just blindly write code. Instead, you learn to think about why you are doing what you are doing, which is often missed out in other learning platforms. Unfortunately, I cannot think of anything specific. It is all memorable. And great. And amazing. And wonderful. And beautiful. Why is there a dot before And? No idea.
What skills did Turing College help you to develop?
Without mentioning all the hard skills, Turing College helps you to develop attention to detail, whether it is understanding the data you are given and how to handle it, or the analysis itself. Also, presentation skills as you have to do a lot of them.
What are the best parts of being JTL?
The best part of being a JTL is helping others:
You get to see how others are progressing, and it is always satisfying to know that you have helped somebody.
You get to review the material yourself, which is a great way to learn.
You learn to correct someone without telling them the answer directly but by guiding them until they find the solution themselves.
What are the best parts about having 1on1 code reviews?
The best part of one-on-one reviews is seeing how industry professionals think - how they approach different tasks, and how they solve issues. Being able to pick their brain is a massive bonus. I want to work as a data professional, so my experience at TC so far has a correlation coefficient of 1 with my personal goals and career.