Leon Milosevic joins EPAM in another hiring success for Turing College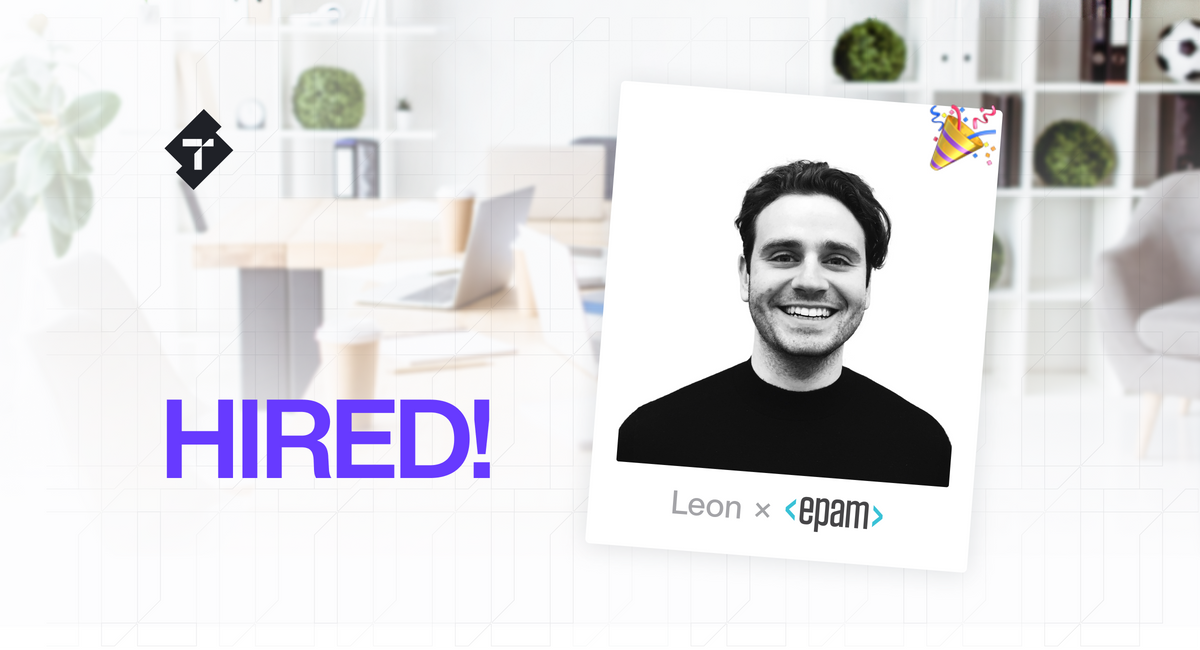 Turing College has scored another win when it comes to getting learners hired, with Leon Milosevic securing a placement with global tech giant EPAM.
Headquartered in New Jersey, EPAM specializes in product development, digital platform engineering, and digital and product design, and it is the world's largest manufacturer of custom software. Operating in 35 countries, and specialising in 11 industries, the company was recognised as one of Fortune's 100 Fastest-Growing Companies in 2019, and posted revenue of $2.7 billion in 2020.
Leon has taken up the position of Junior Data Quality Engineer, and is excited to grow within a role that he feels is a perfect fit for him.
Intensive learning and personal goal-setting push Leon forward
Leon joined Turing College's first batch of learners in late 2020. He brought with him 2 years' experience as a Web Developer in his native Serbia (he also had experience in education and professional sports, which you can read more about in this meet the learners article). However, his pivot from web development into data science was challenging at first, as Leon admits. Importantly, Turing College was there to guide him through: "Turing College has helped me to become a better professional by challenging my technical learning capabilities with very intense course content." He continues, "Now I am more familiar with data science, I see its potential even more."
But it wasn't just the intensive training in Data Science that Leon received that has helped him take his career to the next level. His experience at Turing College has also enabled him "to understand myself better on a personal level and help me establish and find long-term career goals."
A hard-working, humble and curious lifelong learner
Leon may have joined Turing College with some ICT experience, but the course has definitely put him on a new trajectory.
Already a highly motivated individual, thanks in part to his background in professional sports, Leon has the ambition to become a great data scientist. And according to Giedrius Žebrauskas, Head of Education at Turing College, Leon has what it takes: "He has already shown he can put in the work required to achieve challenging goals. He also displays the humility and curiosity of a lifelong learner, allowing him to understand new things naturally and quickly."
It was these qualities that made him the perfect candidate for a Junior Team Lead role while at Turing College. By leading daily stand-ups and giving peers support with issues that were holding them back, Leon honed his interpersonal, communication and leadership skills. Skills that are now going to benefit EPAM.
A supportive and exciting new work environment
Leon is already settling into his new job. And he is finding EPAM to be the kind of supportive and nurturing environment that he' become accustomed to at Turing College:

"The company and the people working there have been great so far, very welcoming and helpful. They are helping me with my first steps, answering my questions with patience and understanding."

As for the role itself, Leon couldn't be happier: "I really like the role, since it is a combination of a Data Engineer and a Data Analyst role. The role suits my technical knowledge and I can see myself grow within it."
Are you, like Leon, looking to grow as a professional and challenge yourself by starting an exciting data science role for a global industry leader? Turing College is ready to help you make that happen.